Name:Dusk
Picture:
Bio: Most common form of Nobodies, they seemingly glide through the air and attack using their sharp fingers and feet.
Name: Creeper
Picture: none
Bio: The weakest of the Nobodies, they haven't completly manifested and appear as a shapeless silver object with a small head. has several different attacks and defenses.
Name: Berserker
Picture:
Bio: one of the strongest Nobodies, can crush just about anything with it's large club. takes several hits to take down.
Name:Dancer
Picture:
Bio: The only Female nobody, if they get a hold of you then you are going to be sent flying, they have quite a bit of strength.
Name: Dragoon
Picture:
Bio: Dragon-like nobodies that like to attack with their spears at high altitudes. if you see a purple spear land in front of you then look around for one of these.
Name: Gambler
Picture:
Bio: Nobodies that don't have very much strength and rely on their luck in order to defeat their enemy.
Name: Sniper
Picture:
Bio: the swiftist of the nobodies, it moves from place to place launching bolts of light at their enemies.
Name: Sorcerer
Picture:
bio: the magic using Nobody, defends itself with large transparent blocks and casts powerful magic.
Name: Samurai
Picture: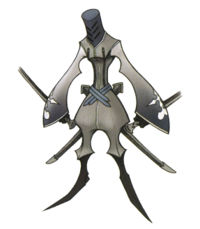 Bio: a high ranking Nobody. fight one on one with an opponent. fight one as the others watch.
Name: Assassin
Picture: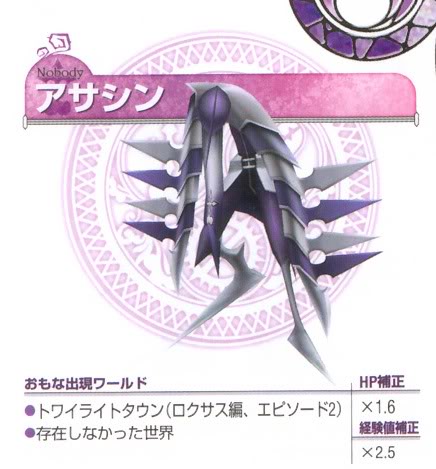 Bio: Graceful Nobodies who attack their victims from underground and through the air. they explode if threatened.
Name: Human Nobodies (Organization XIII)
Picture:
Bio: the most powerful of the Nobodies, if you run into one, you better be strong in order to take it out, there are a few exceptions to these, there are few good ones.