Name: Devil Buster
Cost: 5, for movement based actions, 10 for attack, 25 for large attack
Effect: Creates a spectral version of Nero's right arm that varies in size (depending on the situation needed) and can be manifested for several different scenarios. Can do feats of supernatural strength, which Nero often uses to his advantage when fighting demons. Nero regularly uses it to move and throw objects much larger than him, a technique that is known as Buster. The arm can also be used to pull objects towards Nero (Snatch), or him towards them instead (Hell Bound). While Devil Triggered, the ghostly arm becomes a part of the specter.
Example of Buster use: can be manifested to reach long distance to grab hold of an enemy or object, can be used to punch, strike, throw enemies, block projectiles and physical attacks (as long as Nero can command it to, so he has to be aware of said attack) and can be manifested as big as 20 times its normal size for attack large enemies (considered a large attack)
Type of Ability: Manifestation?
Element: Demonic
Damage: Depending on the scale of the manifestation. typical punches can do 10 damaged.
Def Increase:n/a
Atk Increase: n/a
History: Although it has not been explicitly explained how Nero received the Devil Bringer, there is an Order of the Sword report stating that Nero received an injury to his shoulder before the events of the game. He had initially believed that an infection had spread through out his arm, but eventually realized his power and trained with it in secret. According to Nero after acquiring Yamato, "From that day forth, (his) arm changed, and a voice echoed 'Power, give me more power' ".
After Nero "received" his Devil Bringer, he kept it hidden in a sling and bandages until he first encounters Dante. The Devil Bringer emits a strange glow before the former shoots the Vicar, Sanctus. Nero then reveals his arm to block a thrust from Rebellion, after he was left alone in the opera house to battle Dante.
After his encounter with Berial, the weakened demon wonders if the arm meant Nero was not human, to which Nero replies "Don't ask". This is possibly a notion that he doesn't know what to believe about his true self.
After defeating Agnus for the first time, he shows great reluctance in allowing the mad scientist to even look at the demonic arm, while Nero is keeping them separated via his sword. However, Agnus surprises him with a squad of Bianco Angelos, and they nearly kill Nero in order to subdue him. Speared through the stomach with a Gladius, Nero is on the verge of death when the shattered Yamato, suspended in an energy field in the center of the room, resonates with the Devil Bringer. The demon blade repairs itself and lends its power to Nero, granting him the ability to use his Devil Trigger. Miraculously healed, Nero finally accepts the power and the curse that is his Devil Bringer, and swears to use it to protect Kyrie.
However, the use of the Devil Trigger causes the Order to send Nero's foster brother Credo to apprehend Nero, which ends in the latter's defeat. Unfortunately Kyrie witnesses this and grows fearful of Nero, which allows Agnus to capture her in order to bait Nero into following him. Nero almost rescues Kyrie once but she is once again taken out of his reach by Sanctus.
Following Dante's rescue of Nero, the younger Devil Hunter uses his power to free Kyrie from The Savior and again in the final showdown with the giant statue, which he ends by crushing its head in his spectral hand.
After the Savior is finally defeated, Nero is still ashamed to show his demonic arm to Kyrie, but she expresses her total acceptance of Nero. In one of the last scenes, Kyrie is shown taking his right hand into hers, and the Devil Bringer gives off a faint, golden glow.
Picture: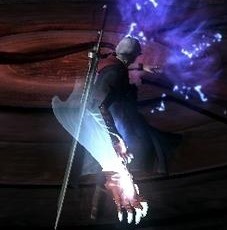 Picture: